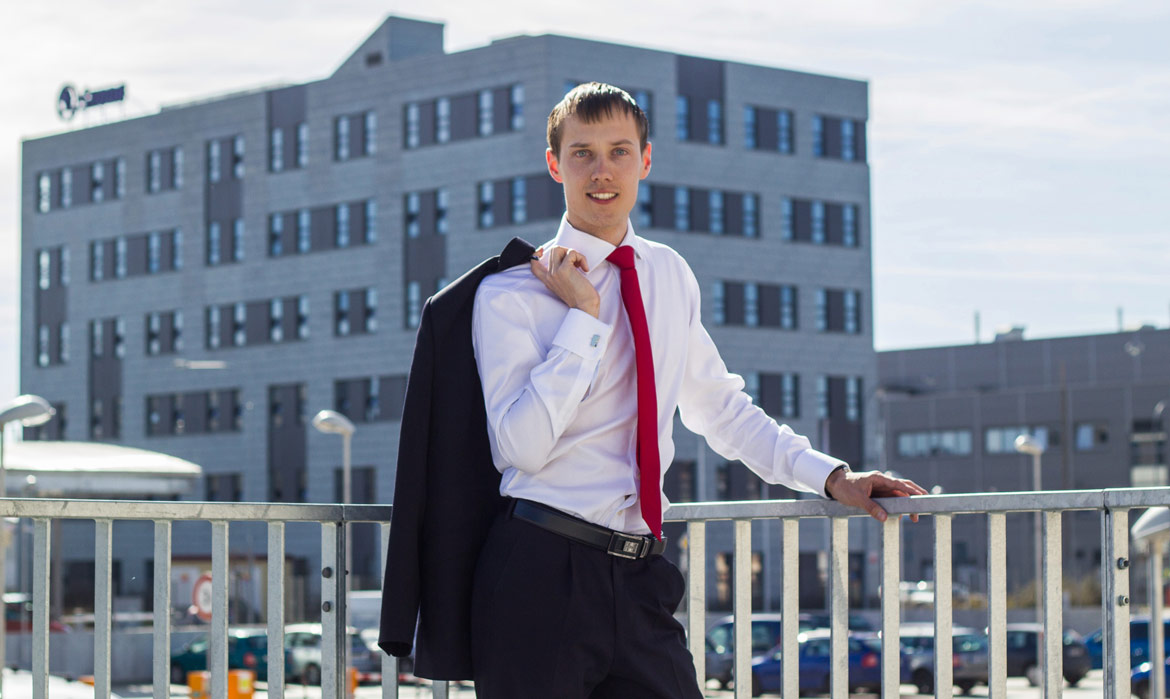 Taking the lead in international business
When Jan Cerny '11 was applying to colleges, he knew he wanted an education that would prepare him for international and professional success. A Czech, he looked primarily at schools in the United States.
"I always had an adventurous spirit," explained Cerny. "I also admired the entrepreneurial "can-do" spirit and hoped to find it in the USA—which I definitely did."
After his graduation from Gettysburg, Cerny pursued a Masters in financial economics at Oxford University and returned to the Czech Republic to work at Skoda Transportation.
He's enjoyed a great deal of success, too. He started with Skoda as a financial specialist in the office of their chief executive officer. Less than five years later, Cerny is a member of the board of directors.
"Leading a large company is a large responsibility," said Cerny. "My goal is to support Skoda on its international expansion and help the company navigate the often tricky waters of international business."
Cerny found plenty of opportunities to develop his business skillset and explore international pursuits at Gettysburg. He was a member—and even president—of both the International Club and the International Affairs Association, was involved with the Gettysburg Recreation Adventure Board (GRAB), and even studied abroad in Heidelberg, Germany.
"Having the opportunity to share my love for global affairs and diversity started a fire that I hope will never die out," Cerny said. "I learned the satisfaction of organizing large events, helping fellow students in need and taking on a leadership role that is both demanding and extremely rewarding."
He thrived in his classes, too. He declared a major in economics and a minor in business and German, was inducted into Phi Beta Kappa, and graduated summa cum laude. While his classes satisfied his intellectual curiosity, it was the relationships he was able to build with his professors that had the greatest impact.
"I owe a large part of who I am and who I would like to be to some of my amazing professors," Cerny said. "In particular, [econ. Prof.] Drew Murphy put finance in enjoyable terms and taught it with pure joy. He sparked my interest in financial markets which I later pursued at Oxford."
After his graduation, he applied and was accepted to Oxford University's Said Business School.
"Gettysburg provided me with confidence and the right tools to succeed," Cerny said. "I longed to apply what I learned at Gettysburg as soon as possible, and the intensity of program at Oxford enabled me to do it."
Now, he's applying what he's learned at the transportation and engineering company, Skoda Transportation. He's leading their financing, sourcing, and purchasing initiatives, and is helping them expand their international operations.
He points to Skoda's acquisition of a new company in Finland as an example of the impact he is able to have through his work.
"The company was almost bankrupt, and about 600 people were to lose their jobs in a region that already had an unemployment rate of 20%. We took something that was broken, and fixed it," Cerny explained.
Eight months after he began to lead the transaction and the cross-border integration of the company, the company turned its first profit. Two years later, it had paid off its debt and was consistently turning a profit.
"It was a win for the people, for the region, and for Skoda," Cerny said.

Cerny has had plenty of opportunities to implement the lessons he's learned about leadership along the way, too.
"When a lot is at stake, it is key to stay focused on the goal and not get distracted by worries or disbelievers," Cerny said. "Knowing that what you do—no matter if big or small—has a real positive impact that you can see or even touch is the greatest motivator of all."
Founded in 1832, Gettysburg College is a highly selective four-year residential college of liberal arts and sciences with a strong academic tradition. Alumni include Rhodes Scholars, a Nobel laureate, and other distinguished scholars. The college enrolls 2,600 undergraduate students and is located on a 200-acre campus adjacent to the Gettysburg National Military Park in Pennsylvania.
Contact: Kasey Varner, assistant director of communications, 717.337.6806
Posted: Tue, 9 May 2017

Next on your reading list
Top 2018 highlights from Gettysburg College
---
Ben Tabor '13 on making connections at home and abroad
---
2019 Commencement speaker is author Jerry Spinelli '63
---
Share this story: