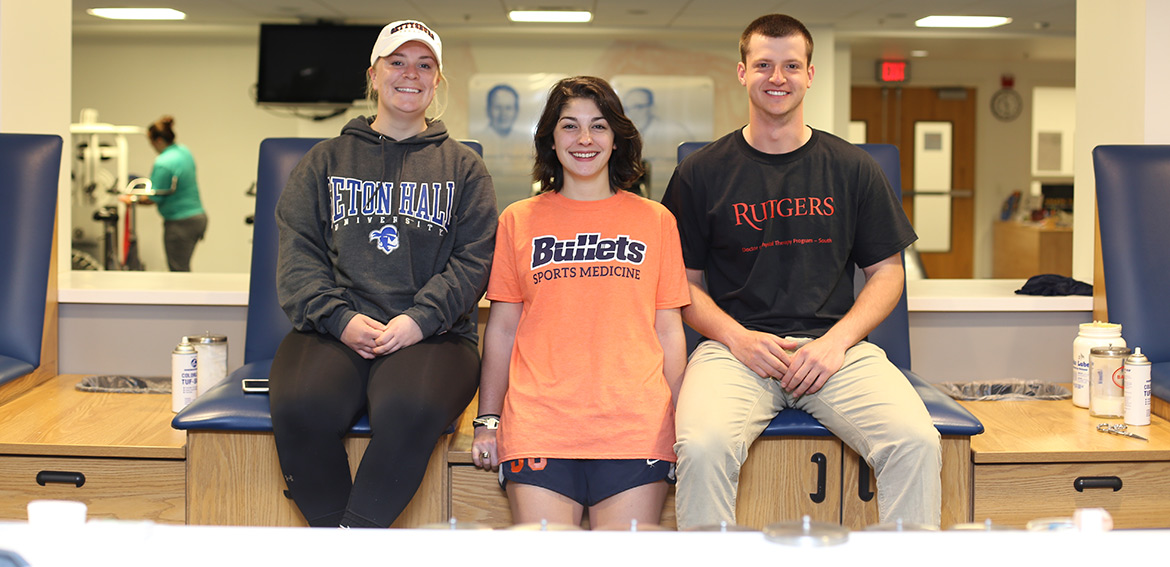 A winning combination for a career in health
Preparing tomorrow's medical professionals takes place in many areas on the Gettysburg College campus and for three student-athletes - Ronnie Bridges '17, Genie Lavanant '17, and Chase Stopyra '17 - the combination of working in the athletic training room and majoring in health sciences has opened the door to careers in medicine.
"There's a long tradition here at Gettysburg College of students gaining hands-on experience with our athletic trainers," said Associate Professor Dr. Dan Drury. "There are few other places on campus that provide such a rich and immersive experience that seamlessly compliments one's academic field of study."
According to Head Athletic Trainer Mike Cantele '88, about three-quarters of the students who help out in the athletic training room go into the medical profession.
"Our students' desires to go to graduate school has put more of an emphasis on us to become teachers inside the athletic training room," said Cantele.
College athletes can suffer from a plethora of ailments, ranging from muscle pulls and tears to broken bones and concussions. Working in the athletic training room has given the three student-athletes added perspective when it comes to those injuries.
"I think the athletic trainers have helped me realize there is much more to athletic training than water, heat, or electrical muscle stimulation," said Lavanant, who played four seasons as a catcher on the softball team. "The biggest thing I learned is you have to see the person as a whole and not just an injury."
Earlier this spring, Bridges, who competed as a goalie on the field hockey team, was covering a shift for a fellow co-worker and in came Cantele with an injured athlete. Cantele wasted no time in calling Bridges over to help assess the injury.
"Mike brought her in and did the ACL test and then did it again and asked me if I saw what happened," recalled Bridges. "You could just see there was nothing holding her knee together."
While receiving first-hand experience in the athletic training room, the students have built a strong foundation of knowledge about human health through health sciences. Gettysburg offers both Bachelor of Science and Bachelor of Arts degrees in the major.
"The health sciences majors are very unique among those traditionally found at liberal arts institutions," noted Drury. "Many schools will have a course or two related specifically to human health, but Gettysburg College has an entire department full of professors specifically trained to teach our students about a variety of topics pertaining to human health and disease."
The Department of Health Sciences holds the distinction of being the most popular major among student-athletes at Gettysburg. On top of that, the department sends out more interns every year than any other department on campus, which allows students to apply knowledge learned in the classroom to real world settings.
Stopyra, Bridges, and Lavanant all completed internships last summer. Stopyra worked with an orthopedic surgeon in San Diego, while Bridges worked with an athletic trainer for the Baltimore Red Birds, a collegiate baseball league for aspiring professional prospects. Lavanant totaled over 200 hours helping the Gettysburg athletic trainers cover the myriad of camps hosted by the institution last July and August.
Carrying a full course load, being involved in internships, working in the athletic training room, and competing as student-athletes have certainly presented challenges, but these three student-athletes have persevered and are more than ready to tackle the next adventure thanks to the experiences they've had at Gettysburg.
"There's going to be times where you're going to be working so hard you're going to feel like you're down and out," said Stopyra, who was named the Centennial Conference Pitcher of the Year this spring. "That's good because it builds you up and makes you strong. I think Gettysburg prepared me for the real world and it has made me stronger as a person, both physically and spiritually."
Bridges, Lavanant, and Stopyra received their degrees in May and are already planning their next steps. Bridges and Lavanant are both seeking master's degrees and certification in athletic training, the former at the University of Tennessee-Chattanooga and the latter at Seton Hall University. Stopyra is headed to the Rutgers School of Health Professions in Stratford, New Jersey, to earn his doctorate in physical therapy.
"It's very rewarding when they get into grad school and even more rewarding when they graduate and go out to the field and become leaders," said Cantele. "It reiterates what we're doing to prepare students for successful careers."
Founded in 1832, Gettysburg College is a highly selective four-year residential college of liberal arts and sciences with a strong academic tradition. Alumni include Rhodes Scholars, a Nobel laureate, and other distinguished scholars. The college enrolls 2,600 undergraduate students and is located on a 200-acre campus adjacent to the Gettysburg National Military Park in Pennsylvania.
Contact: Corey Jewart, associate director of athletic communications
Posted: Wed, 21 Jun 2017

Next on your reading list
Gettysburg College rankings underscore academic excellence, career, and alumni connections
---
18 works published by faculty in 2018
---
Top 2018 highlights from Gettysburg College
---
Share this story: