President Janet Morgan Riggs '77 announces plan to retire following 2018-19 academic year
Gettysburg College President Janet Morgan Riggs '77 announced to the Board of Trustees and College community this week that she will retire next June, following the 2018-19 academic year. Riggs was appointed the 14th president of Gettysburg College in 2009 after serving as interim president in 2008.
"It is with profound admiration and respect that our Board of Trustees accepts President Riggs's intention to retire," said James L. Chemel '71, chair of the board. "Janet personifies the ideals that make Gettysburg College great. Her openness, warmth, and generosity have left a lasting legacy on our campus community, and her vision and leadership have helped position Gettysburg among the top liberal arts colleges in the nation. We are forever grateful for her passion and devotion to her alma mater."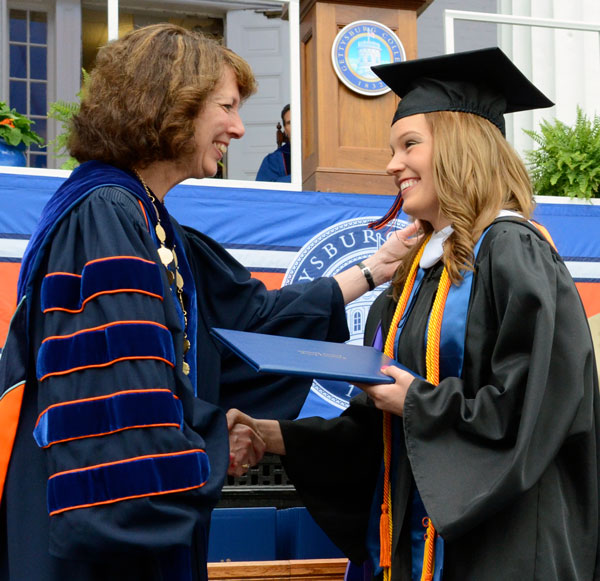 Under her leadership, Gettysburg College has enhanced its commitment to inclusion and internationalization; strengthened its academic reputation and recruitment efforts; and enhanced its campus grounds and facilities. During her tenure, Riggs also spearheaded the Gettysburg Great Campaign, which with a goal of $150 million is the most ambitious fundraising campaign in the College's 186-year history.
Facing a challenging economic environment throughout much of her presidency, Riggs remained focused on directing resources and energy to improving the educational experience. She oversaw the expansion of the College faculty and a reduction of the student-faculty ratio; a significant increase in student research opportunities; the integration of technology across campus; the establishment of the Garthwait Leadership Center; accreditation for the Sunderman Conservatory of Music; and a significant expansion of public policy offerings, in part through the expansion of the Eisenhower Institute.
Riggs has spoken often about the value of a liberal arts education, particularly in today's rapidly changing world. During her presidency, the Center for Career Development developed a rich array of career-related opportunities for students, and today Gettysburg College is recognized for having one of the strongest alumni networks in the country. In addition, the College is now ranked nationally as a premiere institution for global education and community-based learning and research.
Prior to her role as president, Riggs served as provost, interim provost, and executive assistant to President Gordon Haaland, as well as a faculty member and chair in the College's Psychology Department. She graduated from Gettysburg College in 1977 with a B.A. in psychology and mathematics before earning her M.A. and Ph.D. in social psychology from Princeton University.
"From the moment I stepped onto the Gettysburg College campus as a 17-year old high school student, I knew that this place—this community we all share—was special," said Riggs. "I am thankful for the extraordinary opportunities Gettysburg has afforded me throughout my life and my career, none greater than the trust bestowed in me as your president for the past 10 years. I continue to be inspired every day by our students—by their intelligence, enthusiasm, sense of social responsibility, and propensity to take action. And I will be continue to be engaged fully in supporting their education and the Gettysburg College community until my retirement in June 2019."
Beginning this summer, the Board of Trustees will appoint a committee to identify the 15th president of Gettysburg College. The national search will commence this fall. More information will be shared with the College community as it becomes available.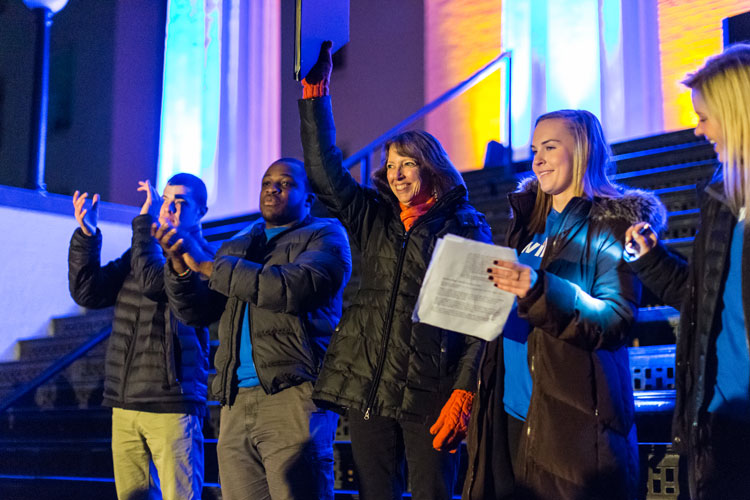 Founded in 1832, Gettysburg College is a highly selective four-year residential college of liberal arts and sciences with a strong academic tradition. Alumni include Rhodes Scholars, a Nobel laureate, and other distinguished scholars. The college enrolls 2,600 undergraduate students and is located on a 200-acre campus adjacent to the Gettysburg National Military Park in Pennsylvania.
Contact: Mike Baker, associate director of communications and coordinator of development communications, 717.337.6521
Posted: Thu, 3 May 2018

Next on your reading list
Gettysburg College rankings underscore academic excellence, career, and alumni connections
---
18 works published by faculty in 2018
---
Top 2018 highlights from Gettysburg College
---
Share this story: