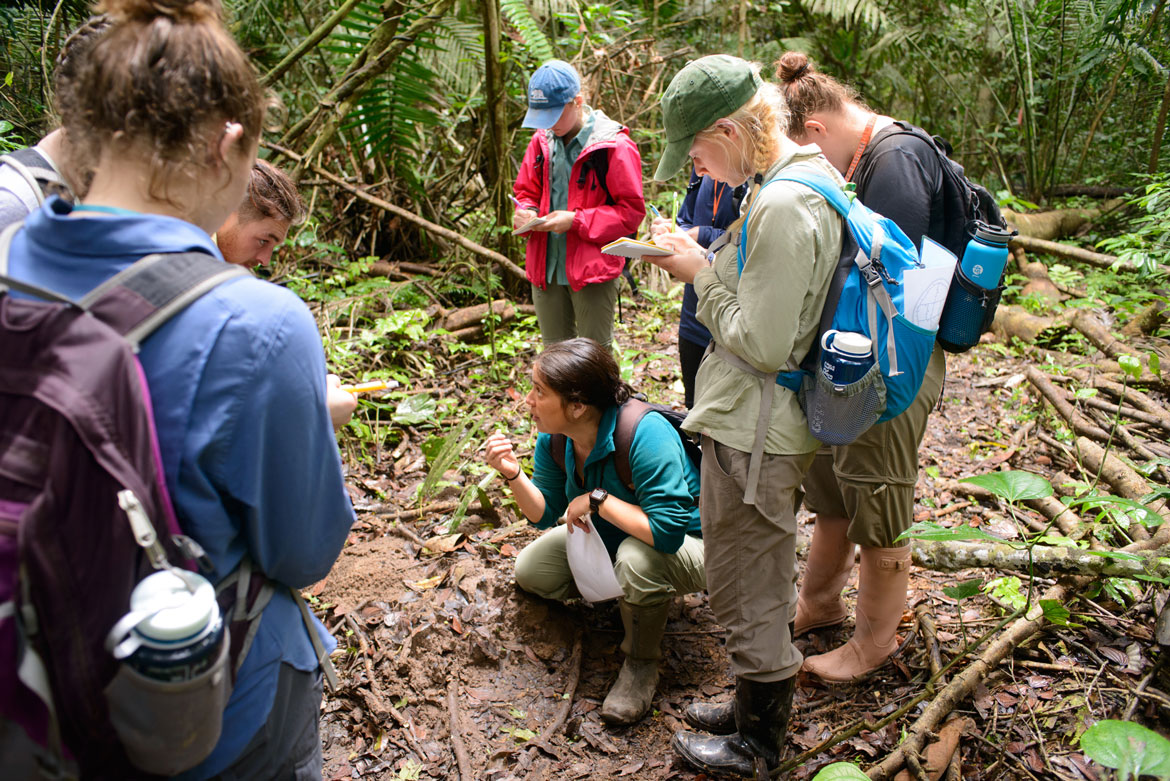 Learning better to inspire living better
Ten species of monkey. In just one day. That's how many species Prof. Alex Trillo's students observed as part of the Tropical Terrestrial Biology course. Not in captivity, not in a book, not on a screen—but in person and up close, in the Amazon.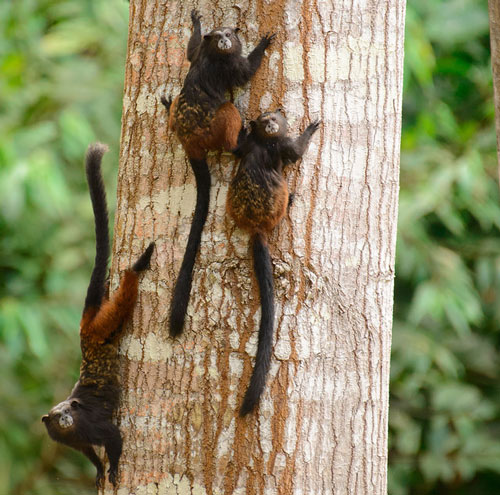 They spent most of the spring semester in a classroom in Gettysburg, learning about tropical biodiversity, community ecology, and conservation. Then, they traveled to Manu National Park in Perú as part of a three-week field expedition.
It is an experience so extensive that the course is only offered in alternate years. Before even reaching the Amazon, students learned about previous research conducted in Manu; they analyzed maps of the area and identified the biggest conservation concerns of the park; and they discussed the important ecosystems they would see.
In short, "they became experts on the places they would travel to," said Trillo. "This is important because this maximizes their ability to take in all they learn through the travel."
But what exactly does it mean for a science student to be able to travel to the Amazon?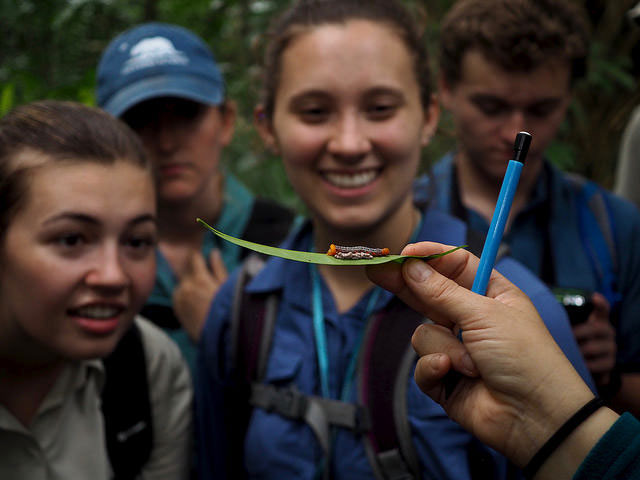 It's like being in a 3-dimensional textbook; every sight and sound is a teachable moment. Students re-learn through observation what they thought they knew in the abstract. And they leave with their approach to understanding science appreciably transformed.
Discussing the experience in a campus presentation in the Science Center, Julia Palmucci '18, gestured to Trillo. "It must be hard to teach this course," she said. "You can't make a lesson plan for the Amazon."
"You're constantly on your feet and taking in what's around you," another student agreed. By the end of the trip, the class visited at least four completely different ecosystems.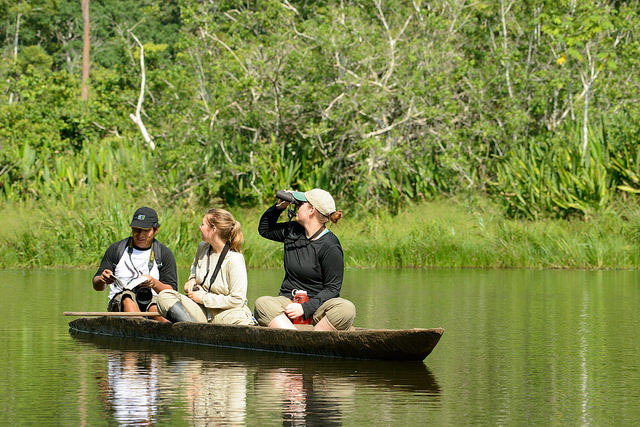 In their journey through the Amazon they traversed the Andes, followed an ancient Incan trail, and made a two-day trip by boat to Cocha Cashu Biological Station in Manu National Park, a pristine habitat accessible only for scientific research and education. In the final leg of the trip at the Station, the group spent almost two weeks completing fieldwork and research.
Every day presented the unexpected, and Trillo took advantage: observing the behavior of giant river otters; discovering and discussing jaguar and tapir tracks; and marveling over exceptional caiman sightings.
"I'm a firm believer that taking students to nature and to the field and getting them to experience it is what makes a big difference [in their understanding of tropical biology]," said Trillo.
Another important component of the class is understanding how the biology fits into larger global issues; this is where observing the abstract in action makes the largest impact.
Students come to an authentic understanding of the impact of logging because they see the difference between the untouched forests and and forests where human impact is evident. "They understand climate change in a tangible way because they get rained on when they weren't supposed to," continued Trillo. They learn not just the biological concepts, but also gain a very different perspective on global issues by the end of the semester.
Courses like this take tremendous effort and resources. Gettysburg offers such opportunities so students learn thoroughly and think innovatively, inspired about how to live better on our planet.
Trillo's favorite anecdote about seeing learning in action is about a student—now alum—Natalie Tanke '17, who marveled at the water pouring out of the root of a tree in a forest in the Andes. In class, students learned about the importance of cloud forests—which are characterized by their moistness and persistently low cloud cover—in conserving water in the Andes. In the wet season, water condenses and is stored in the roots and moss; in the dry season, this water is released into the ecosystem. This is called the sponge hypothesis.
"Natalie saw this in action," Trillo remembered. "We were walking in an area where roots emerged from the ground, and moss covered everything. The students grabbed them and saw the water pour out, literally like a sponge."
"We have all left the tropics feeling inspired and motivated to educate about what we've seen and learned," she wrote. "I am not the same person that I was when I hiked into the tropics. I am better."
So that's what it means for a science student to be able to travel to the Amazon.
The BIO-229 course is taught every other year; the course will be offered again next Spring 2019.
Founded in 1832, Gettysburg College is a highly selective four-year residential college of liberal arts and sciences with a strong academic tradition. Alumni include Rhodes Scholars, a Nobel laureate, and other distinguished scholars. The college enrolls 2,600 undergraduate students and is located on a 200-acre campus adjacent to the Gettysburg National Military Park in Pennsylvania.
Photos taken by Michael Caldwell, Sam Donnelly, and Ciara Kernan.
Contact: Carina Sitkus, senior assistant director of communications, 717.337.6803
Posted: Thu, 8 Feb 2018

Next on your reading list
Gettysburg College rankings underscore academic excellence, career, and alumni connections
---
18 works published by faculty in 2018
---
Top 2018 highlights from Gettysburg College
---
Share this story: